In this article you will find our recommended dog crate for a German Shepherd.
There has always been some controversy surrounding the use of dog cages. Some believe it is cruel and not welcome in today's pet keeping.
Our view on this matter is that theory is completely untrue. There are numerous reasons why dog crates should be used.
Do Crates Help With Training?
The use of dog crates is a major way towards the training of our dogs as it will teach them obedience and will assist greatly in potty training.
It can provide them with a place of their own which can provide them with a sense of security, as they will treat it as their own place.
Just sometimes our dogs just need to go to their own environment which they can escape all of the pressures in daily life.
The use of crates is a great way of training a puppy and teaching them the rules in which they should follow.
You can see our ultimate guide on Dog Training right here.
How Long Should They Be Left In a Crate?
However, this does not mean you should leave a dog too long in a crate. A rule of thumb for a puppy is no longer than 3 hours.
A new puppy will quickly learn to hold back their need for the toilet. Any longer than boredom will set in and in the long term will have adverse effects on their behavior.
The other important factor is how much water does a dog need during crate and potty training. You can see the article right here.
The Dog Crate We Recommend For A German Shepherd
There are numerous dog crates available in the market today.
We say if you buy cheap then you buy twice.
The crate will have to last for the lifetime of your dog or until they are fully house-trained.
The average lifespan of a  German Shepherd .is 10-13 years.
The average size of a German Shepherd is 55-65cm
The average weight of a German Shepherd is  30-40kg
With all of the above information is taken into account our research has shown that this is the absolute best for your German Shepherd:
PawHut Metal Dog Cage Kennel Locking Door & Wheels Removable Tray Openable Top For Small Medium Large Pets 125 x 76 x 81 cm
This crate can be viewed on Amazon right here
Specifications
This cage comes with 4 wheels that are totally lockable. This makes life easier to move the cage within your home conveniently and easily whether you have a wooden or carpeted floor. The wheel can be easily removed.
It has a safe and large door for easy exit and entry for your dog. Another advantage is the top panel can easily be removed for feeding and cleaning.
It is fully metal which gives a sturdy feel and the mesh is such that it allows the continuous flow of fresh air.
The cage is completely foldable for use in other locations whether visiting friends or relatives or going on vacation.
Each bar is welded for extra sturdiness and safety.
All in all, this is a fantastic cage for a German Shepherd and receives a 10/10 from us.
Our Personal Views On This Crate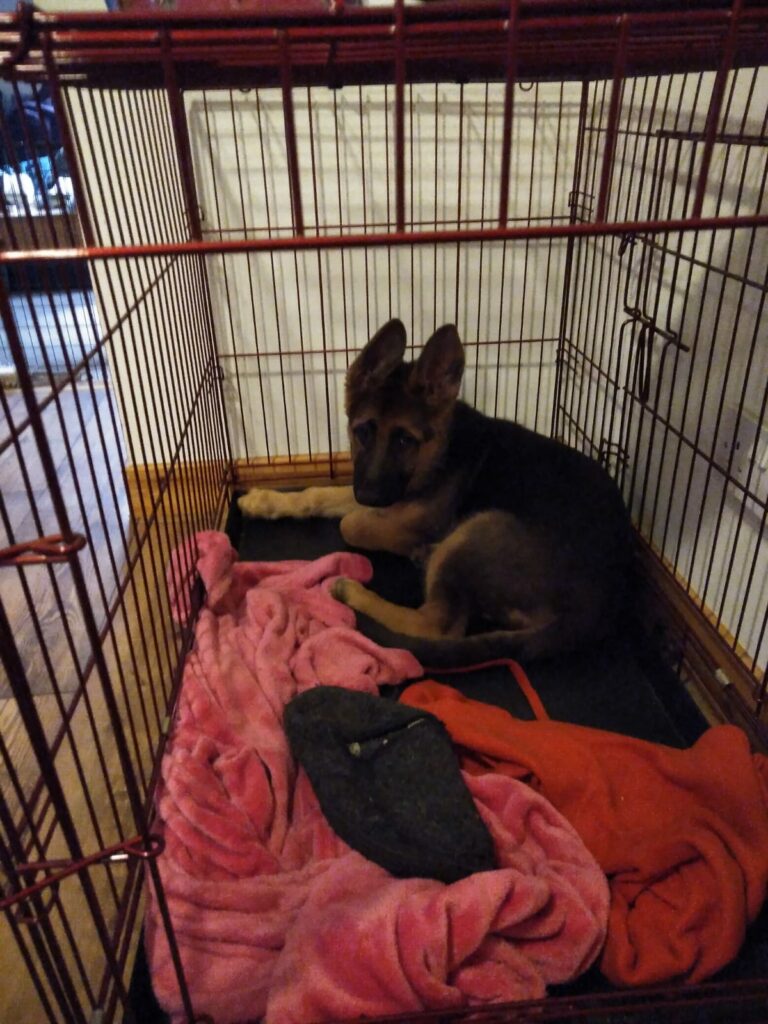 My daughter recently purchased a German Shepherd bitch, "Penny" and we decided to purchase this crate for her.
I already knew it was good as I have used it before, however, these are Victoria's views.
The crate arrived and was packaged up nicely and securely. The delivery driver had no problem carrying the crate to the door.
Although it is constructed from steel the weight did not reflect that.
The parts were laid out and the instructions were followed.
It was refreshing to have clear and concise instructions for assembly. There were no problems at all and the construction was completed within 10 minutes.
Despite the excited anticipation of Penny.
Being a playful pup she entered the cage with no problem after putting her blanket in and her favorite toy.
After the construction, I was surprised by how sturdy and strong the cage is. Not flimsy at all compared to other crates we have that are in the same size.
We are aware that a fully grown German Shepherd will be a strong dog and could easily damage a less quality cage. We are 100% confident that this crate will last forever.
Two days later the crate was folded up and easily fitted in the trunk of our family-sized vehicle.
It was easily re-assembled when placed back into the house.
Penny's puppy teeth are like razor blades and despite the biting of the crate, it shows no damage at all.
There is ample room for a bowl of water and some treats for her.
We have found that now the crate is her domain she has no problem going into the crate at night or during the day. She treats it as her own personal space.
We were going to include a Pros and Cons table to help you with the purchase of this crate but to be honest there is not a single con.
We are overjoyed with this item and it is well worth the money. We truly think this is the best possible dog crate for a German Shepherd.
Enjoy your new crate.
Disclaimer: This website is reader-supported, which means we may earn a small commission through products purchased using links on this page. As an Amazon Associate we earn from qualifying purchases. Visit our Affiliate Disclaimer page for all details.