I can't remember the number of times I have been asked the question "How do I stop my puppy from eating poop?"  Don't lose sleep over this annoying puppy problem it can be common in puppies and even adult dogs. Your initial reaction will be of disgust and stress and worry, asking yourself what kind of dog have I got? However, in the article below I am going to enlighten you with the reasons why your puppy is eating poop and how to stop this nasty habit quickly and naturally.
As an expert in dog behavior problems I have, over many years, learned that just like you and us your dog will change as they age and not only can they start eating poop but may start up other quirky, worrying and stressful habits such as grass-eating, digging holes and so on. That is why I have put together what is considered the Dog Bible which covers all strange dog behavior and is an absolute must to dog owners just like you. Therefore, please take a single minute of your time to have a free look at this download now. I will not be asking for your contact details, I don't have to. Just have a look and make your own informed decision.
The guide has been downloaded thousands of times and stays with you and your puppy forever being a handy reference for you to refer to saving money on expensive vet bills. How would you like that?  Do you want a happy, healthy and obedient puppy? Of course, you do. Just go over and download it now while it is still available and become a proud and content dog owner just like many thousands before you.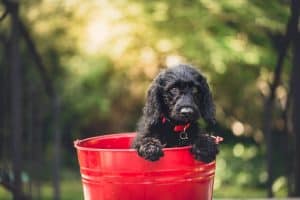 The full article.
One of the biggest challenge dog owners have to deal with is dog eating poop. Puppies are adorable, but the sight of him snacking on his poop isn't exactly exciting. It is a problem that you have to deal with and curb. This is because not only is the habit undesirable but it could also transmit illnesses to your pup. In this article, we are going to focus on the reasons and how to stop a puppy from eating poop.
Reasons why your puppy is eating poop
There are several reasons why puppies start eating poop. These reasons include;
Learned behavior – Surprisingly, this is one of the common reasons why you might find your pup eating poop. This is because puppies learn behaviors from older dogs. This is the way dogs live, even in the wild. For instance, in the wild, dogs live in packs. The older dogs somehow define the rules of the pack. Due to dogs co-existing, puppies tend to pick behavior from adult dogs. Adult dogs eat poop to protect their pack from predators.
However, due to domestication, dogs no longer feel the need to protect themselves. Well, that is because they feel safe with us, members of his pack. When a female dog gives birth to puppies, you might have to deal with coprophagia. This is because mother dogs have a tendency of eating puppies' poop to clean after them. Unfortunately, your puppy may imitate the mother and end up eating poop.
Puppies that have been raised in a dog shelter may also pick up behaviors from older dogs. If you recently adopted a puppy, he may eat his own or other animal's poop. However, puppies are easy to train and so you should not have much problem curbing the latter.
Hunger – Feeding a puppy is easy, they only need to eat like four times a day. However, you also have to consider the amount and type of food you are offering your dog. Over the months, you are required to monitor your pup's eating habits. For instance, a month old puppy cannot feed the same amount of food a six months old puppy will.
If your puppy is hungry, or simply underfed, he may engage in poop eating. Usually, young puppies will feed more often than adult dogs do. You will have to feed your puppy based on the age, weight and energy levels. This means that you really have to monitor your puppy and make sure that your puppy is well fed.
Sadly, not only does the amount of food you feed to your dog matters but also the nutritional components of the food. Like humans, puppies also need to feed on a balanced diet. Your vet should be able to advise on the type of food to offer your dog.
He loves it – this is actually a difficult concept to explain. I mean, how come a dog loves to eat poop, of all the other snacks there could be? However, this is usually related to the smell and taste of the poop. For instance, puppies absolutely love the taste and smell of cat poop. This makes it double trouble if you keep both cat and dog.
Dogs love the taste of cat poop. In fact, dog owners who also keep a cat will confess that they have caught their dogs eating cat poop. Your dog may also find his own poop a delicacy, which is even grosser. However, if you cannot find a viable reason why your puppy is dining on poop, maybe he just likes it.
Digestive enzymes deficiency – As much as it may appear normal for a dog to eat poop, you should not ignore it. Instead, you should monitor your dog consistently to identify why he is doing so. Sometimes, coprophagia is as a result of lack of necessary digestive enzymes.
Initially, dogs lived in the wild and so their digestive system is accustomed to certain foods. However, domestication requires dogs to live with us. In this case, they do not have to hunt for prey since we feed them. Unfortunately, sometimes the foods we feed our dogs are not enough in terms of nutritional compositions.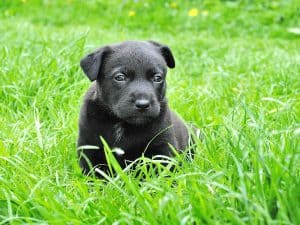 Although processed dog food is safe for our dogs, it may not be enough. This is because dogs cannot make their own digestive enzymes. These enzymes are responsible for breaking down food. This means that a dog with enzymes deficiency may not be able to digest and absorb foods into the bloodstream. This will also slow your puppy's growth rate
Enzyme deficiency will drive your puppy to look for more nutrients. This might lead to your dog eating poop.
Stress and Anxiety – This might be shocking to you but as a matter of fact, dogs do get stressed. There are several causes of stress and anxiety in dogs. These might include change, separation from owner, sickness or even boredom.
For instance, a puppy may get stressed because you recently brought him home. This might be as a result of separation from his mother or even from other dogs. This is especially if you adopted him from a shelter.
Loneliness is also another reason why your puppy is stressed. Puppies love attention and company. This is why you might find your puppy following you around everywhere. Whenever you leave him all alone at home, he is bound to feel lonely and bored. In return, he will engage in poop eating as a coping mechanism.
Separation anxiety is also another reason as to why your dog is stressing. Puppies hate spending all days alone at home. It gets worse when he does not see his owner as often as he is used to. This leads to stress and he is definitely going to find a way out of his misery. Eating poop can be one of the ways he will do it.
Another common cause of stress is a change of residence. Dogs take time to adapt to changes, in whichever way. If you recently moved to a new residence, your puppy may start eating poop as a way of coping with his stress.
Exploration – Puppies love to explore their surroundings. It is the way they learn to move around and get around your house. However, it is important to understand that in efforts to explore, he may end up eating poop. That is if he comes across his or another animal's poop. You should curb the behavior as soon as it starts so that he learns it is not acceptable.
Coprophagia is not exactly harmful. However, it is disgusting behavior that may put your dog's health at risk. Poop eating exposes your puppy to the risk of contracting internal parasites. These parasites may put your dog's life in danger and thus the need to control this behavior. Below are some of the ways you may use to curb poop-eating behavior;
Avoid punishment
Punishing your dog after observing him eating poop is not advisable. In fact, you might be encouraging the disgusting behavior. This is because dogs do not understand our language. If you yell at him he may end up thinking that you are rewarding the behavior. This is especially a common occurrence in dogs that engage in coprophagia as a way to get attention from their owners.
Caning your dog is not advisable either. It is important to understand that dogs do not understand the concept of punishment. And even when he discovers that eating poop makes you angry, he may end up doing it in private. This way, you will not find out but he will still continue engaging in the behavior.
Dog owners who punish puppies for soiling the house may find themselves trying to curb poop eating. This is usually during training. You will have to give your pup some time to learn the things you teach him. If you are on the verge of potty training and he has an accident, it would not be appropriate to yell or try to punish him. Instead, you should be patient with him or withhold any treats and rewards until he stops.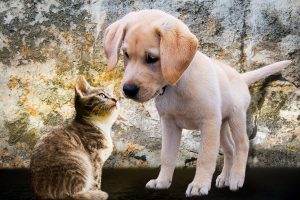 Clean after them
One of the most accurate reasons why dogs eat poop is because it is there and they can see of sniff it! If at all there wasn't poop smelling from afar, it will be unlikely for your dog to want to eat it. It is therefore important to make sure that your dog does not come across any poop around your home.
But how do you clean after him when you are gone? This is probably the question lingering in your mind right now. However, this should not be a hard one. You can be able to predict the likelihood of your pup pooping. Usually, your puppy will poop 15-30 minutes after eating. Now you can be able to predict when your puppy is likely to poop.
This way, you will be able to adjust your schedule in such a way that you will clean before leaving home. It is also advantageous to come up with a feeding routine in order to avoid surprises.
Increase playtime
Some dogs will engage in poop eating behavior out of boredom as discussed earlier. At this point, it is important that you understand how quickly puppies get bored. If you are used to being together most of the time, it means your puppy is used to it too. Maybe you engage in play and exercise or something fun together. However, if this changes and you become a little busier, your puppy will feel it too.
When you are gone, your puppy will be home all alone with limited activities to engage. For some reason, he might find eating poop a great way to pass time and probably express his worries. If your puppy happens to fall in this category, increasing playtime prior to leaving the house will help curb the behavior.
It is also advisable to look for better ways to engage your puppy when you are away. Some people prefer to leave the TV on for the puppy while others will buy toys. The goal is to keep your dog as occupied as possible to avoid coprophagia.
Potty training is one of the most important training in a dog's life. It is quite effective for training your puppy as you will avoid inconveniences such as house soiling. However, it is important to practice patience and resilience when you are training a puppy. The advantage of training a puppy is they are fast learners as it is their first time training.
To reinforce training, you may consider rewarding your puppy whenever he does it right. This will make it easier for you to clean his poop before leaving the house. You will also curb poop eating in that you will empty his potty as soon as he is done relieving himself.
It is also advisable to clean poop from any other animals in your household if you are trying to stop a puppy from eating poop. Not only can your pup engage in eating his own poop but also other animals'.
Enzyme supplements
We have already established that puppies eat poop because they suffer enzyme deficiency. You will, however, have to take him to a vet in order to confirm that indeed your dog needs it. This way, you will make up for the enzymes and curb the poop craving. Your vet may also be able to recommend the correct supplements to give to your dog.
Increase food amount
Bringing up a puppy can be a difficult task as you have to monitor him. But we do love puppies and they are adorable. It is important to monitor your dog's food intake and how frequent he needs to eat. Your puppy grows older, you may consider increasing the amount of food you give him. You can do this as you reduce the frequency of feeding. For instance, if you are used to feeding a certain amount of food to your dog four times a day, you can increase the amount of food and feeding him thrice a day.
In conclusion
Poop eating is not exactly a threat to your dog's life. In fact, it is a more frequent behavior than you think. However, it is important to come up with a way to stop a puppy from eating poop at an early age. This will prevent the behavior from becoming chronic and a lot harder to curb. Feeding your dog the right amount of food is an important step in curbing poop eating. Remember to keep your puppy as happy and comfortable as you can.